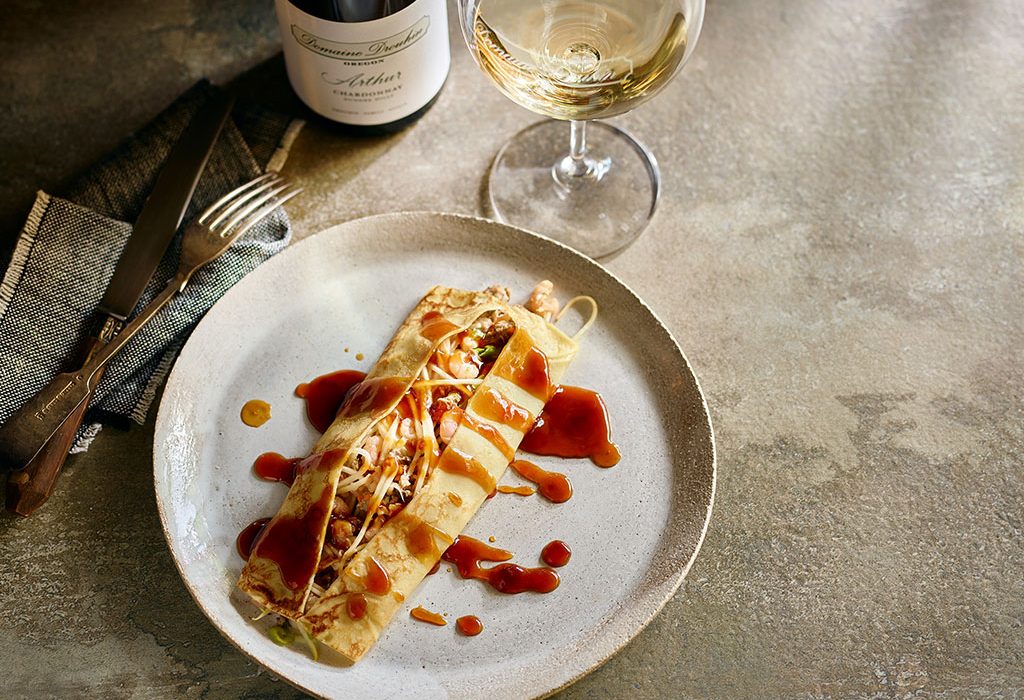 By Chef Carlo Lamagna
Pork and Shrimp Filling:
1 lb                   ground pork
 ¼ lb                 bay shrimp
3 tbsp                oyster sauce
¼ cup                onions, minced
1 tbsp                garlic, minced
1 cup                 bamboo shoots, julienne
TT                    S&P
As needed           vegetable oil
– In a pan, caramelize onions and garlic.  Add meat and brown
– Add oyster sauce and shrimp.  Adjust seasoning.
– Add bamboo shoots before serving.
Brown Sugar and Soy Sauce Vinaigrette:
¼ cup                rice wine vinegar
2 tbsp                brown sugar
3 tbsp                soy sauce
3                      garlic cloves
½ cup                vegetable oil
1 tsp                  sesame oil
½ cup                roasted peanuts, chopped, unsalted
– In a blender, combine sugar vinegar, soy sauce, and garlic clove.  Blend until ingredients are fully incorporated.
– Combine sesame and vegetable oil and slowly emulsify into vinaigrette base.  Mixture should be a stable emulsification
– After vinaigrette is made, fold in roasted peanuts.
Crepe Batter:
3 cup                 milk
4 tbsp                butter
1 tsp                  salt
1 tbsp                honey
1 cup                 ap flour
2/3 cup              whole wheat flour
8                      eggs
– Melt butter, set aside.
– Mix all dry ingredients in one bowl and all wet in another.
– Incorporate wet to dry. When batter is one homogeneous mixture, slowly drizzle in melted butter.  Allow batter to rest at least 1 hour.
– In a 12 " crepe pan, spray with non-stick spray and ladle 2 oz of batter. Spread thin and gently cook until golden brown.
To assemble:
– put filling into crepe and roll. Pour sauce over.