Poised atop the Dundee Hills, with gentle slopes that capture the breezes and sunshine, our 235-acre estate overlooking the Willamette Valley produces some of the finest Pinot Noir and Chardonnay fruit in the world.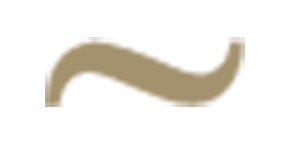 Est. 1989
Landmark Gravity Flow Winery
All of our wines are crafted by hand in our four-level gravity flow winery built atop the Drouhin family's 235 acre estate in the Dundee Hills of Oregon.
Our goal is to craft wines naturally with gentle treatment and minimal manipulation. It is our hope that our Pinot Noir and Chardonnay will be appreciated for their classic finesse, elegance and for the true reflection of their origin; their terroir.
Once the grapes have reached full maturity with a perfect balance between brix and acid, and fruit and tannin, they are hand-picked into small 25 pound totes, insuring the arrival of pristine, uncrushed fruit at our four-level gravity-flow winery. Everything we do in the winery is intended to preserve the unique qualities that nature provided for us in the vineyards.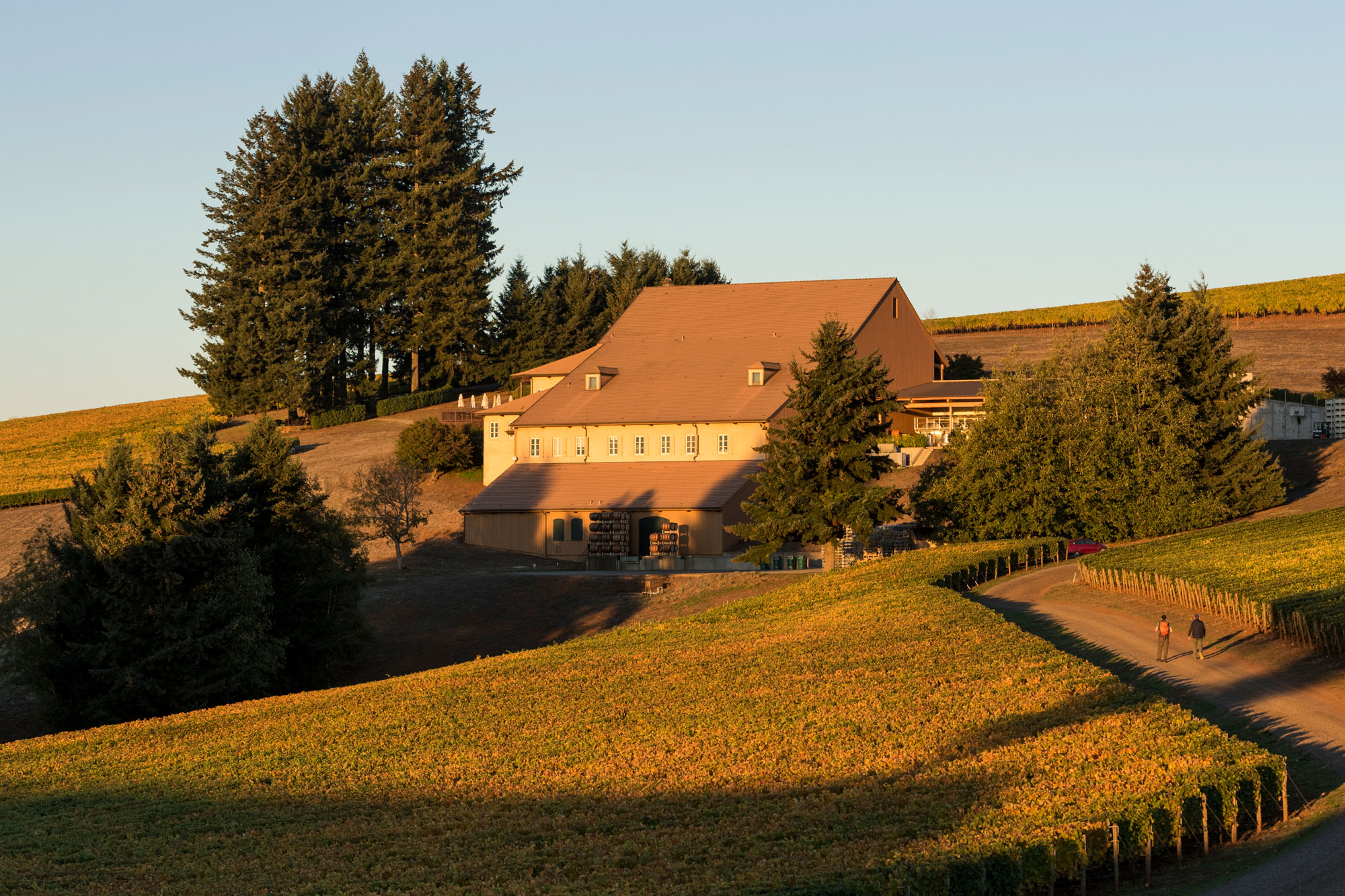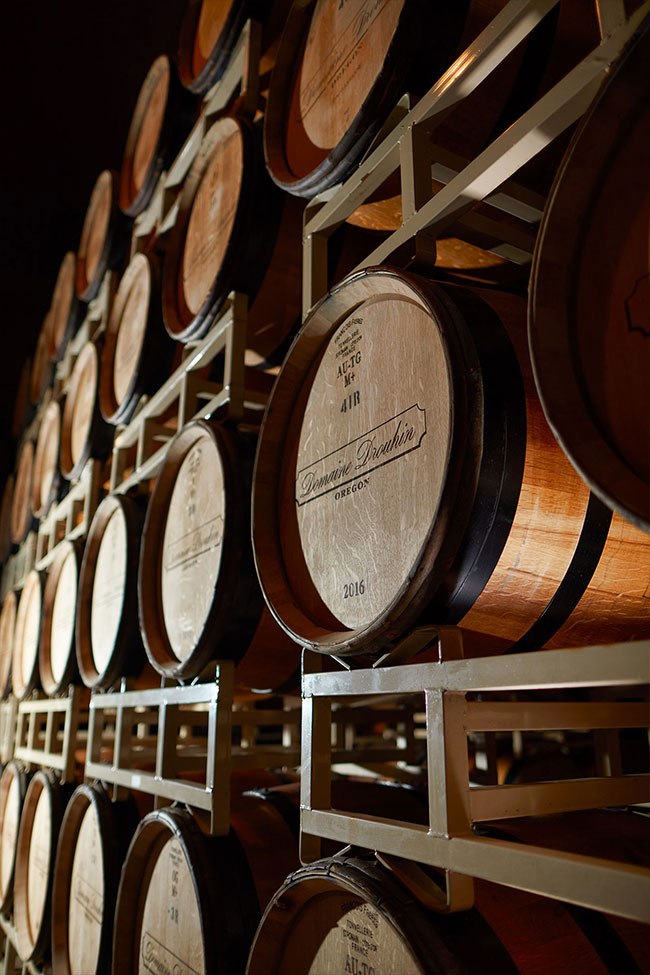 Active fermentations last 7-12 days, during which time the age-old Burgundian techniques of pigeage (punch-down) and remontage (pump-over) are used as means of gentle extraction. Fermentations are long and
careful and once complete, the free-run juice is moved via gravity to the third level of our winery, the barrel cellar.
Our Pinot Noir is aged in both new (20%) and neutral French Oak barrels. Barrels are custom made for us in Burgundy, using oak from France's best forests, which we feel allows the character of the wine and vintage to show through. Once the secondary, malolactic, fermentation is complete, the wines are racked off their lees via gravity and back into barrel.
After 12-14 months in oak, Véronique selects barrels for each of our three cuvée's and the wines are then blended and allowed to rest for several months before moving to the final level of the winery, our bottle room. At this final stage, the wines again are moved via gravity into bottle and then allowed to mature 6 to 18 months before release.
David Millman, President & CEO
David Millman joined DDO in 2004 after a 20-year career in the music business, working for several record companies and eventually running his own public relations and marketing firm. In addition to his duties with DDO, David has served on several boards, and has been Board President of both the International Pinot Noir Celebration and Oregon Pinot Camp. He is active in supporting the Salud Auction, and frequently serves on industry committees.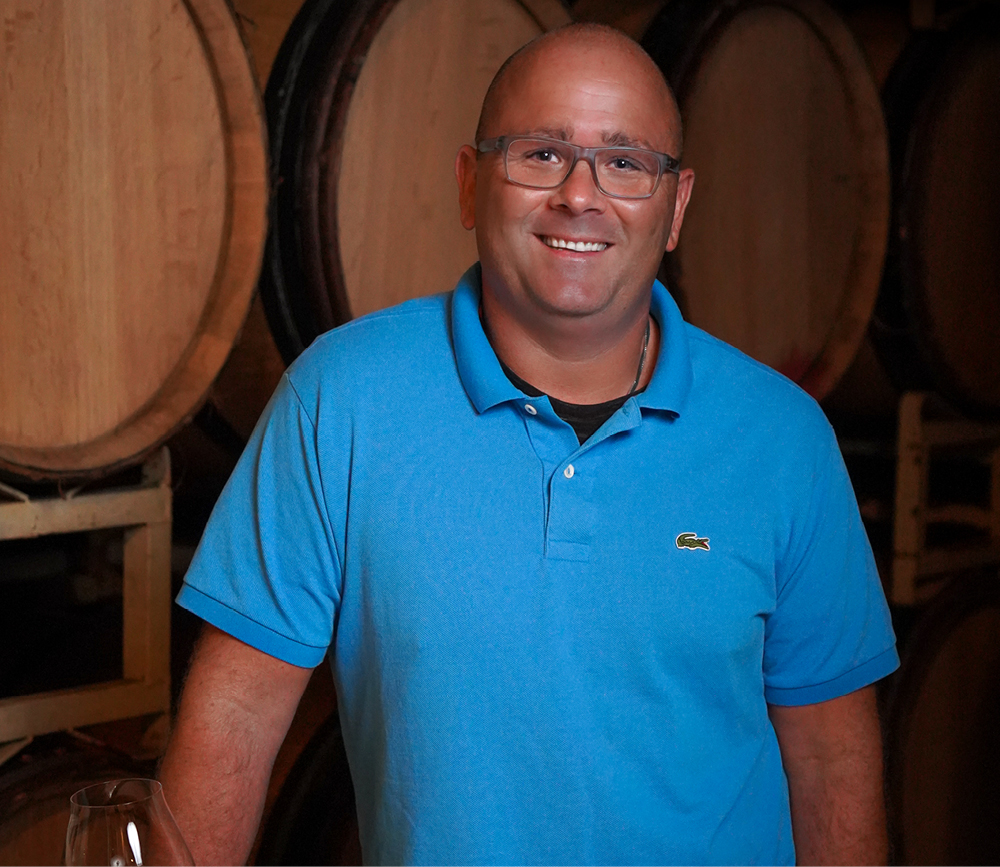 Arron Bell, Asst. Winemaker & Operations Manager
Arron Bell joined DDO in July of 2002, and was promoted in 2009 to the specially created position of Assistant Winemaker & Operations Manager.  Arron is in charge of production operations, and is responsible for helping Véronique achieve her vision for each vintage.  He also regularly travels on behalf of DDO to talk about the intricacies of the Drouhin style, and what sets our wines apart.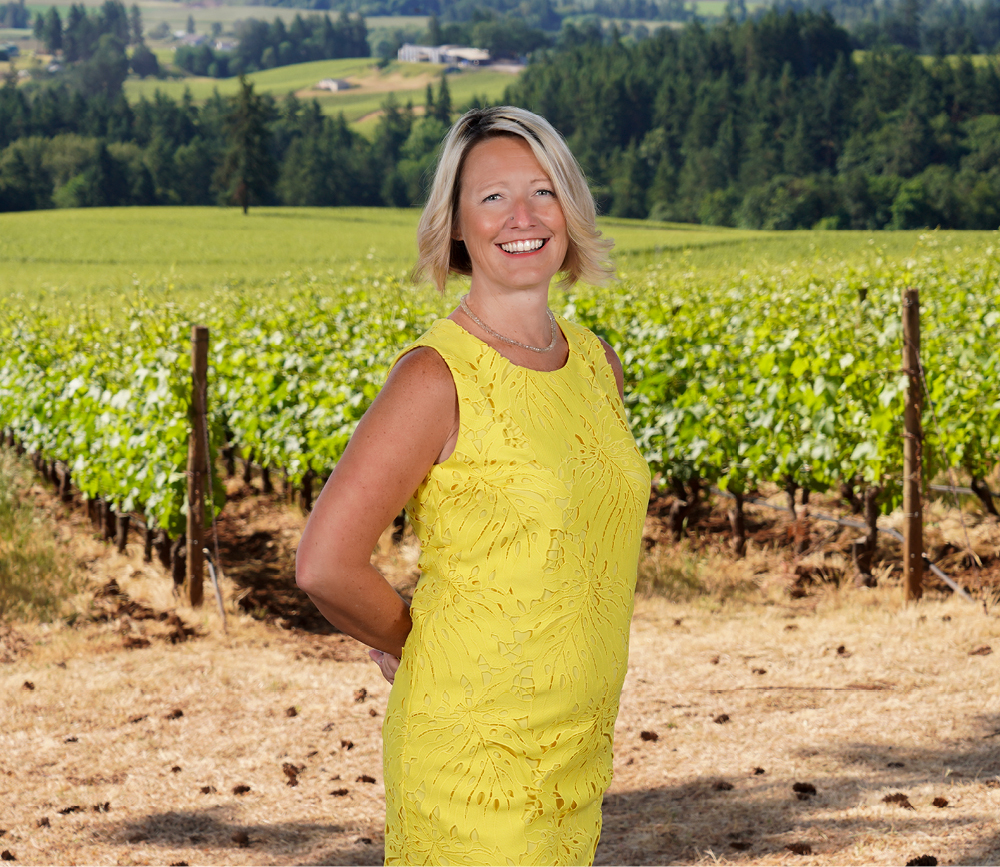 Ashley Bell, Vice President Sales & Marketing
As a trusted voice for all things Drouhin, Ashley Bell travels nationally and internationally to represent Drouhin wines. She is in charge of Domaine Drouhin Oregon's sales, education and marketing, and brings with her two decades of passion for the family's commitment to excellence, in Oregon, the Cote d'Or and Chablis. Ashley is a founding member of the Dundee Hills AVA board, and will become President of Oregon Pinot Camp in 2022.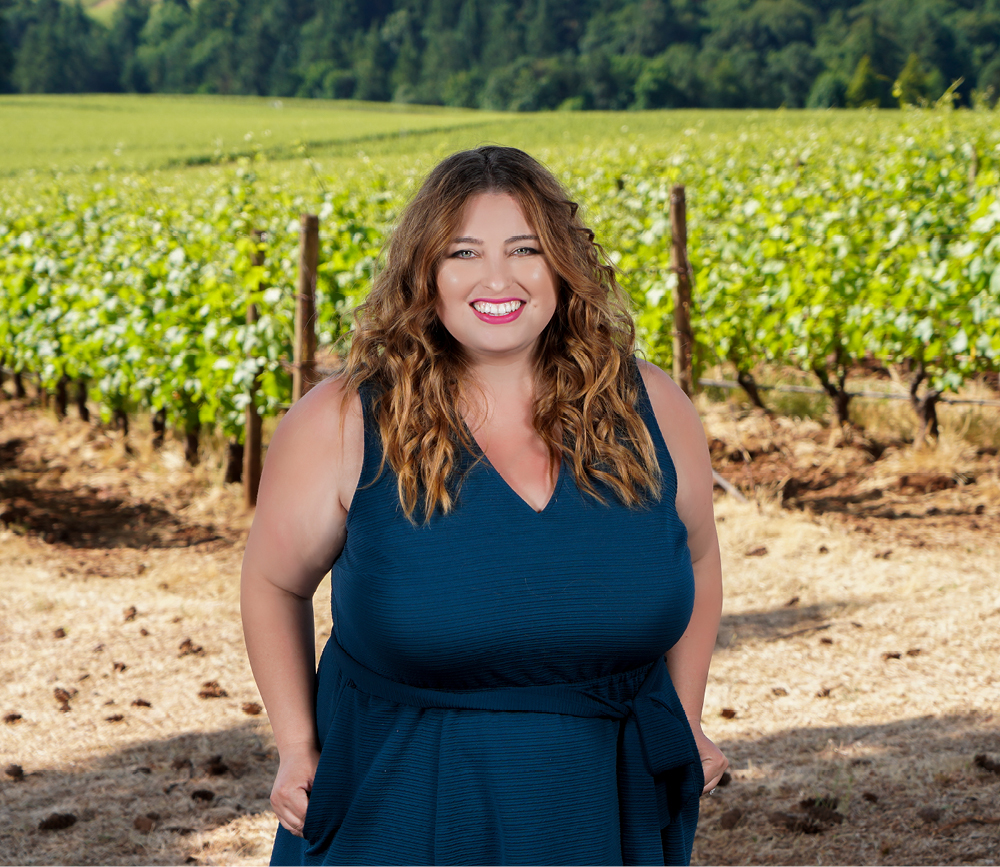 Maeghan Moss, Asst. Tasting Room Manager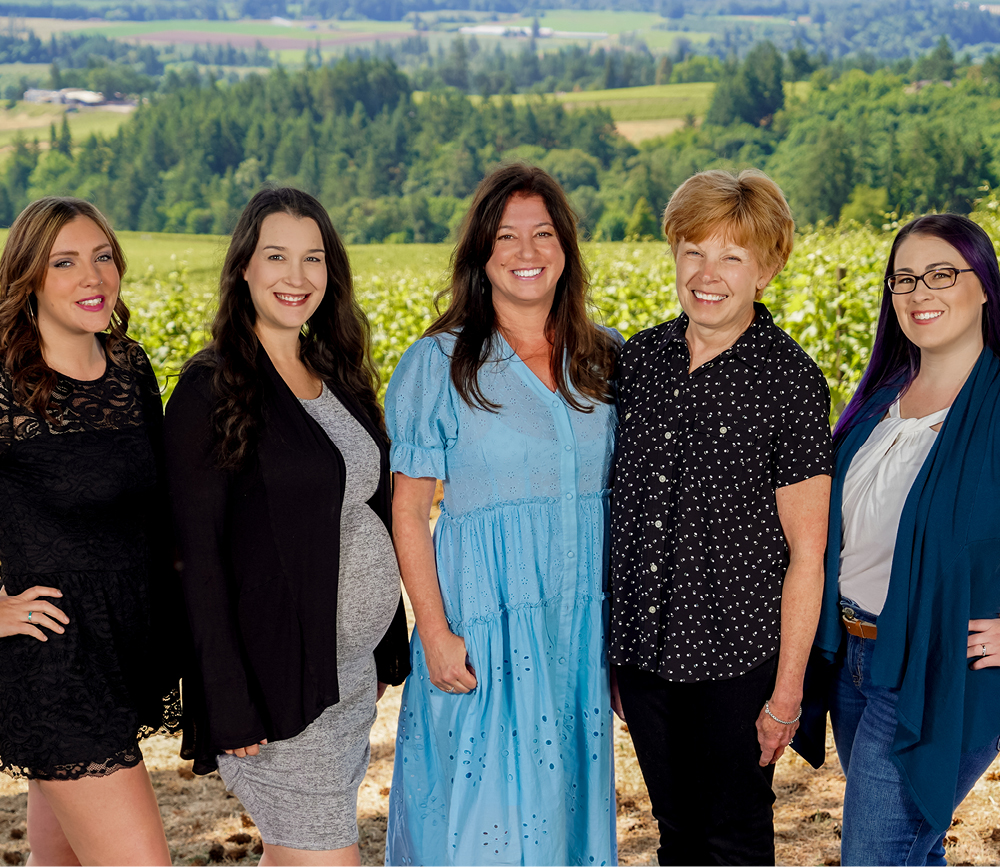 Administration Team
Stephanie Spangler, Hospitality Administrative Assistant
Kateland Harvey, Marketing & Direct Sales Manager
Dyane Savino, Wine Club & Shipping Manager
MaryAnn Coon, Office & Logistics Manager
Megan Davison, Administrative Coordinator