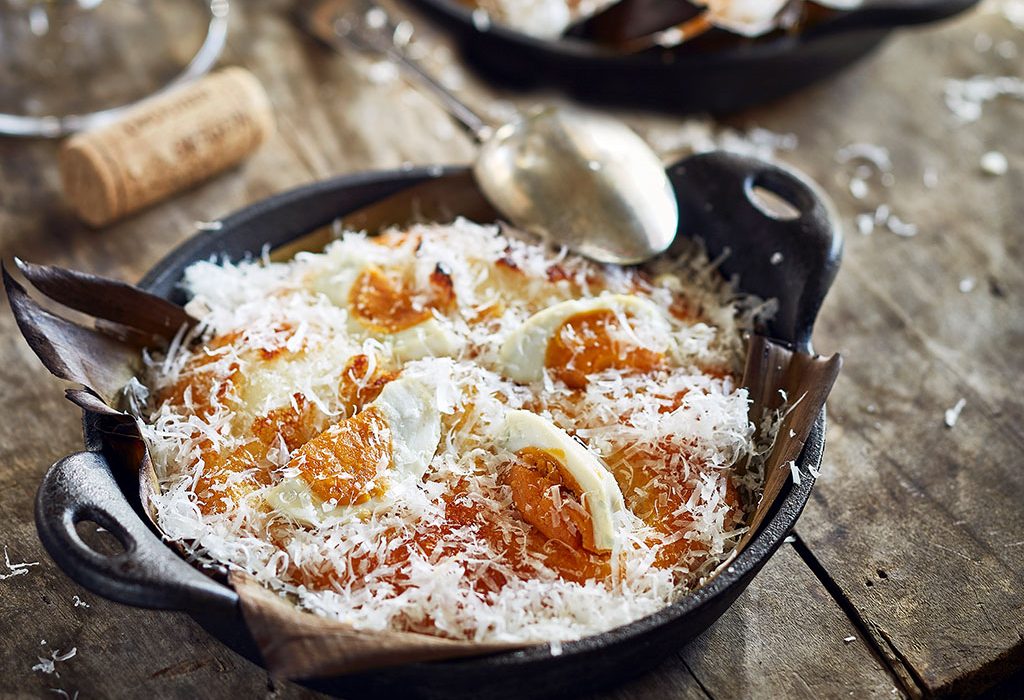 by Chef Carlo Lamagna
1          banana leaf
1 cup     sweet rice flour
¾ cup    sugar
3 tsp      baking powder
½ tsp     salt
1 cup     whole milk
½ cup    coconut milk
3          eggs, large
3 tbsp    brown butter, melted
Garnish:
Salted egg or cured egg yolk
Parmesan cheese or edam cheese
Pre-heat oven to 375F
Cut banana leaf into squares and line 10" skillet with alternating sheets. Trim any excess that rises above the lip of the pan.
Combine all dry ingredients (rice flour, sugar, baking powder, salt) in one bowl and all liquid ingredients (milk, coconut milk, eggs, butter in another. Add all liquid to dry until fully incorporated.  Allow to sit for 20 minutes to fully hydrate the flour.
Pour batter into banana leaf lined skillet and bake. To test, insert a cake tester or toothpick, if clean, cake is finished.
About 30 minutes once out of the oven, grate edam or parmesan on top. If using salted egg (2 ea), chop and add before baking.  If using cured egg yolk, simply grate over top with cheese.