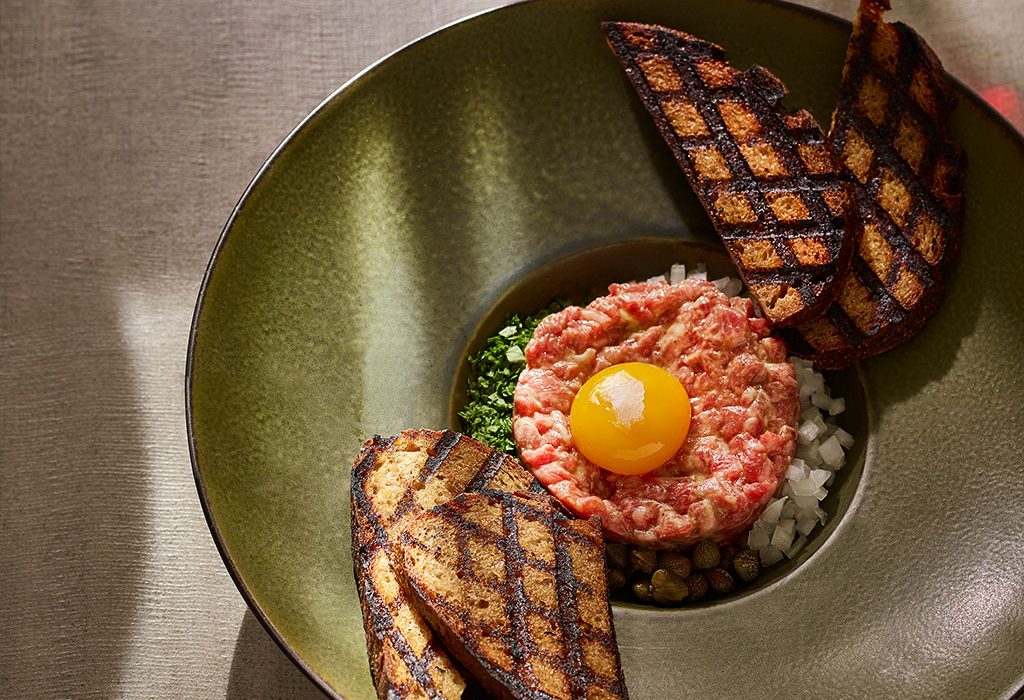 Serves 1
Ingredients:
3 oz.  Of Wagyu Beef, Finely Minced
1 Pinch of Salt
1 Pinch of Pepper
1 Pinch of Chimayo
A Few Drops of Worcestershire Sauce
A Few Drops of Tabasco Sauce
½ Teaspoon of Dijon Mustard
1 Tablespoon of Good Extra Virgin Olive Oil
1 Tablespoon of Minced Onion
1 Tablespoon of Chopped Parsley
1 Tablespoon of Drained Capers
1 Duck Egg Yolk
4-5 Slices of Rye Bread
Method:
In a bowl, gently, but firmly mix the minced beef with salt, pepper, Chimayo, Worcestershire sauce, Tabasco sauce, Dijon mustard, and olive oil together.
Shape the meat with your favorite cookie cutter in the center of the plate.
Arrange the chopped parsley, minced onion, and capers around the plate.
Garnish with egg yolk.
Serve with Rye bread.
Note: Make sure that the cutting board is very clean and free of any other foods when mincing by hand.
Chef:  Vitaly Paley